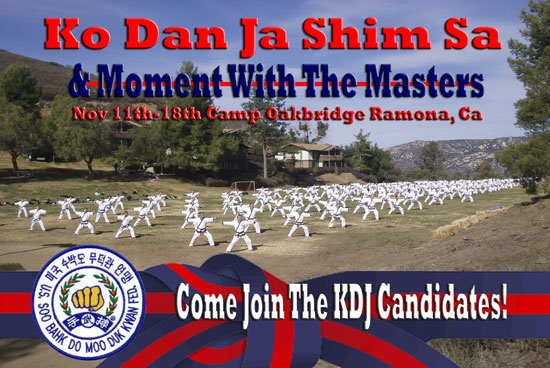 2011 Ko Dan Ja Shim Sa and Moment With The Masters
November 11th -18th Camp Oakbridge Ramona, Ca
Text KDJSHIMSA to 69302 for Updates
The USA Technical Advisory Committee has announced that new training tracks will be effective during the 2011 Ko Dan Ja Shim Sa and Moment With The Masters to better accomodate all invited 2011 Ko Dan Ja candidates, MWM attendees, future Ko Dan Ja candidates, visitors and KDJ Alumni.
These flexible training tracks allow you to select the specific sessions you want to attend as well as tailor the amount of training to fit your needs and match your current physical condition.
Now your Moment With The Masters experience can be even more beneficial and exactly the experience you are prepared to enjoy. All ages and ranks are invited to be part of this unique once a year opportunity.
This will also be a phenomenal, preparatory training opportunity for Sam Dans and above planning to apply for the Ko Dan Ja Shim Sa in 2012.
Attend this year and discover your strengths and areas needing improvement and have a full year to improve your performance so you can enjoy a successful Ko Dan Ja Shim Sa next year.
We would love to have you come share a Moment With The Masters during the 2011 Ko Dan Ja Shim Sa experience.
Camp Oakbridge is nestled in the California mountains in a serene and inspiring location.
Join the 2011 Ko Dan Ja Candidates and your fellow members there!
It was a GREAT event!