All Certified Instructors Apply For Background Check (More info)
Get Copy of Background Check
Students: How To Join Your Dojang's Group On The Institute
Welcome!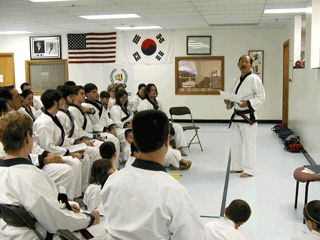 First Time Registrants: The Soo Bahk Do® Institute provides several different ways to locate and access the information you are seeking.
Check out the Help Page for links to quick tips about using Institute features, purchasing a subscription, upgrading an existing subscription, friending other site members who have posted private content that you want to access and learn how to follow specific rank categories, site members, etc. so that you are automatically notiifed when new content is posted.
Should you ever encounter any issues or need assistance, please contact admin@soobahkdoinstitute.com or call (888) SOO-BAHK.
ATTENTION SCHOOL OWNERS!
Did you know that you can upload videos that are only visible to your students and/or parents or friends?
Once your video is uploaded, with one click you can easily send a PUSH SHARE notification email and a link for your video directly to all your students whether or not they have yet registered on the Soo Bahk Do® Institute.
If you have some information specific to your school that would benefit your students and/or parents, you can upload videos that only they can view. Some instructors have uploaded:
Orientation video for all new students and parents

Demonstrate belt tying, bowing and etiquette for entering and leaving school and greeting seniors and fellow students

Basic history of the Moo Duk Kwan

®

martial art organization and the Soo Bahk Do

®

martial art system

Basic Korean Terminology for new students

Advanced Self Defense

Private seminar for your students

Opportunities of becoming a Certified Jo Kyo

Training info for your Instructors that you are training

Opportunities of becoming a school owner

Training for students you are encouraging to open programs or schools

etc., etc.
Email: admin@soobahkdoinstitute.com and let us know that you would like to use this feature and we'll set you up so yo can create your own library of school specific content just for your students!
Enjoy!